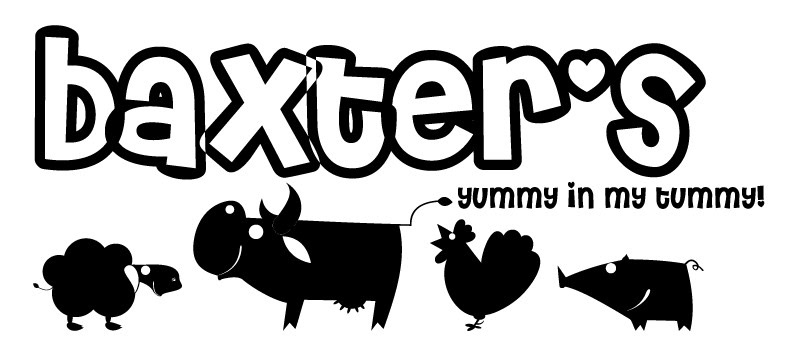 I wanted to create a fun and cute logo with farm animals.  The font and vector art works well together because they are both fun and cute.  Each farm animal represents the raw dog food flavours "Baxter's" raw dog food would be selling (raw lamb, raw beef, raw chicken and raw pork).  This logo would attract a young working professional that does not have children yet but has a dog(s) and treats it like their one and only fur-child.  I left it black and white so you could create different coloured packaging for each dog food flavour (ie. brown bag for beef, pink bag for pork, etc.).  The animals are stock vector art.


I wanted to use a stand-alone font with no vector graphics, but still achieve a fun and modern look.  I chose purple because that's my favourite colour and then used a complimentary colour for the tag line.  The tag line is centered under the product name excluding the apostrophe and letter 's' to be slightly quirky.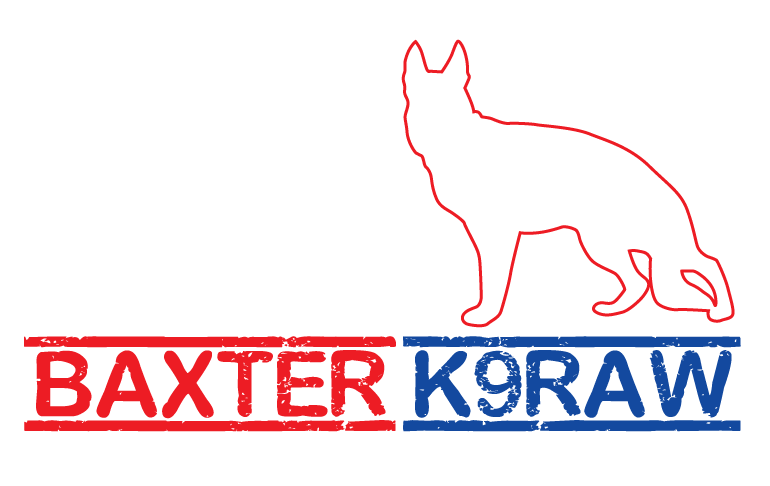 Using "K9 Raw" as the third tag line, I wanted a logo that was police/military looking.  I used an outline of a German Shepherd and a "Top Secret" looking font.  
I used red, blue and white just like the American flag - very military looking.  
This logo would most likely attract large breed dog owners and/or "my dog means business" type of dog owner.  (I changed the name to "Baxter" instead of "Baxter's" in this logo because this font doesn't offer apostrophe's).
The GSD outline is stock vector art.